The Vermilion class (or SN7-45 Class) of submarines under the control of the Malamig Naval Forces is the primary attack submarines. The Vermilion class submarine is known for its offensive use of Inferno Gas, effectively using the substance compacted into explosive missiles.
The submarine is outfitted with low frequency towed sonar array and a high frequency towed sonar array. The use of sonar is a major attribute to the submarine, allowing for early on detection of incoming mines or other beings above the waters surface.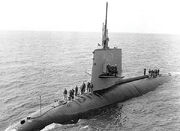 Appearances
Edit
During the originals shipment of Project 45, the use of Vermilion class submarines followed closely behind the Cargo Ships to act as a primary defense. During the original shipment, the use of Inferno Gas had not yet been instated and missiles were much more low-grade.
Several Vermilion class subs have recently been hijacked by leader of the Nationalist Party Subject 45, earning him the nickname "The Living Ghost".
Ad blocker interference detected!
Wikia is a free-to-use site that makes money from advertising. We have a modified experience for viewers using ad blockers

Wikia is not accessible if you've made further modifications. Remove the custom ad blocker rule(s) and the page will load as expected.